The Super Bowl is one of the biggest advertising platforms in the world, with brands paying millions of dollars to secure 30-90 seconds ad slots. With the stakes so high – and with the competition fiercer than ever, it usually takes a lot of creative ingenuity to have a lasting impression.
CBS sold out spots well ahead of the Feb. 7 kickoff at around $5.5 million for a 30-second time slot. Cumulatively, over 52 years, the total spending for ads at the Super Bowl is $5.4 billion according to Ad Age. A few companies that typically promote their brands during the broadcast — including Coca-Cola, Pepsi and Hyundai — decided to skip this year's event.
So apart from 2021 Super Bowl winners Tom Brady and the Tampa Bay Buccaneers; whose millions was well spent during the commercial breaks? In no particular order, here are our top 10 ads from the big night.
REDDIT
With the ongoing Wall Street/GameStop saga that shook up the stock market, and the surprising influence of Reddit communities, the social media platform showed its users some love in a blink-and-you'll-miss-it Super Bowl MOMENT. The five-second ad was the equivalent of a big game Easter egg. Read the advert below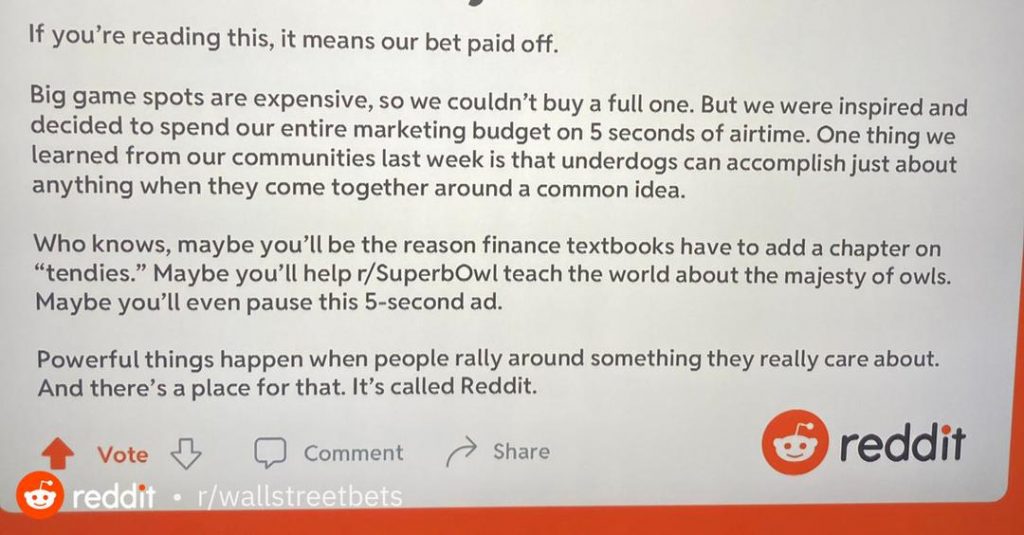 2. ROCKET MORTGAGE – "Certain Is Better"
Tracy Morgan features in a series of hilarious ads showing prospective homeowners the difference between "certain" and "pretty sure." Rocket Mortage delivered two adverts starring Morgan, and both ads hit all the right notes while conveying the main message. Good news for Rocket Mortgage and the ad agency (Chicago-based Highdive), both ads are 1st and 2nd on USA TODAY's 33rd Annual Super Bowl Ad Meter Competition with ad #1 featuring Tracy Morgan, Dave Bautista & Liza Koshy taking home the top prize with an ad meter rating of 7.38, while ad #2 clocked in at a close 2nd spot with a 7.30 rating.
3. GENERAL MOTORS – "No Way, Norway"
Will Ferrell teams up with fellow comedians Kenan Thompson and Awkwafina (Nora Lum) to journey to Norway in an effort to give the country a piece of his mind when it comes to the Scandinavian country's wild adoption of electric cars. Ferrell, and GM, think the US can do so much better. GM even purchased a huge 90-second slot for this commercial, showing how much they're investing in the electric car concept.
4. AMAZON – Alexa's Body
Amazon is left to lead the pack — tech and otherwise. It's got a steamy ad featuring actor Michael B. Jordan as one woman's fantasy for what Alexa should look like in human form. This ad puts Jordan through the voice-assistant paces at the hands of a daydreaming Amazon employee. "Alexa, dim the lights."  On YouTube's Adblitz the spot has 26 million views, putting it ahead of spots for food, beer, cars and more.
The ad created by UK agency Lucky Generals, has won the 2021 Super Clio award which honors the best ad of the Super Bowl, as judged by top creative talent in the advertising industry. It narrowly edged out another of our top 10 honoree, Bud Light Seltzer Lemonade's "Last Year's Lemons" spot by Wieden + Kennedy New York, which was the only other finalist.

5. OATLY – "Wow, No Cow"
Oatly CEO Toni Petersson delivers a one of a kind performance alone in a field, singing a song he wrote by himself to explain what Oatly is all about. Everyone who watched the superbowl will definitely remember "wow, no cow" for a long time. Oatly took a big risk and it is paying off because many people who had never heard of them before Sunday night's big game now do and are talking about them till now. Isn't this what advertising is all about?
6. ANHEUSER BUSCH – "Let's Grab a Beer"
Claiming a super bowl corporate ad spot for the first time, Anheuser-Busch used their ad to remind us about every meaningful moment we share with others and that 'Let's Grab a Beer,' is more than just a statement.
Created by Wieden+Kennedy and executive produced by Oscar-nominated filmmaker David Fincher, together they brought to life those intimate moments shared over a beer, that we now look back on with longing.
7. BUD LIGHT SELTZER LEMONADE – "Last Year's Lemons"
Bud Light Seltzer uses a spot on depiction of 2020 to introduce their new flavour. It's a nod to all the plans that were either put on hold or cancelled in 2020. They took all the Lemons 2020 threw at us and turned them into something tasty: Bud Light Seltzer Lemonade. A perfect representation of the axiom "When Life Gives You Lemons, Make Lemonade".
8. INDEED – "The Rising – 2021"
In a period that has seen the unemployment decline go deeper and deeper, Indeed's advert hit all the right spots. The job search company used their ad to comfort their target audience, letting viewers know that regardless of the level of unemployment they're in, they can search for their next career opportunity through them. The struggle of finding what's next is a sentiment millions of Americans and people all around the world can relate to, especially at this time.

9. TOYOTA – "Upstream"
For its Super Bowl ad, Toyota focuses on Jessica Long, an elite paralympic swimmer. The heart jerking spot did not showcase their cars, instead it gave hope and sent an uplifting message. It told the story of Long and the challenges she's had to overcome to get to where she is today. "I love that the spot highlights not just the gold medals and accomplishments but the challenging journey to get there," Long said of the ad. The advert also tied in the 2020 Olympics in Tokyo, which were delayed to this year.
10. STATE FARM – "Drake From State Farm"
Drake brought a smile to everyone's faces when he appeared in State Farm's hilarious Super Bowl 2021 commercial alongside Aaron Rodgers, Patrick Mahomes, and actor Paul Rudd.
"I'm Drake, from State Farm" the "In My Feelings" rapper hilariously said, and as Jake got up to greet him, they both tried to say the iconic State Farm line at the same time.

Honourable Mention
There you have it, our best 10! Of these 10 adverts, which is your absolute favourite? Is there an ad you believe should be here that we didn't include? Tell us in the comments.
** This article was updated to include the news that Amazon's Alexa's Body won the highly coveted Super Clio award, as judged by some of the biggest names in advertising.