GLG Communications, a leading public relations and reputation management firm, has joined forces with the Brian Reuben Organisation – an international leadership development organisation – to host the Leadership Agenda Summit. Billed for June 30, 2022, the LAS will hold concurrently at the Habtoor Palace Hotel Dubai and the BWC HOTELS, Victoria Island Lagos.

Attendees of the Leadership Agenda Summit will include select dignitaries and senior leaders across politics, business, arts, entrepreneurship, leadership, technology, and academia. The summit's dynamic program features action-oriented keynotes and plenaries. In addition, attendees will be able to engage a community of private and public sector players with a keen interest in leadership and management proficiency.

The 44th Miss Nigeria and the first Hijabi contestant to win a National pageant, Shatu Garko, is expected to deliver remarks as a special guest of honour.

According to Dr Brian Reuben, the summit aims to facilitate new investments, encourage business development, share best practices, guarantee peer-to-peer networking, offer unique industry insight, showcase excellence and promote global thought leadership.

"We approach the design of the Summit each year with sophistication, discipline and most importantly, shared vision. In 2022, we look forward to an extraordinary assemblage of leaders from all walks of life who will come together to create A BRAND NEW WORLD," said Dr Reuben.
In the last few years, GLG Communications has overlapped traditional and new media to define a new era of communications in Nigeria by reining content that speaks to a holistically connected generation.

Omawumi Ogbe, the managing partner at GLG Communications, said the agency was partnering with the Leadership Agenda Summit because it allows leaders and emerging leaders to explore innovation, change, and transformation within their spheres of influence.

"GLG Communications aims to be at the forefront of critical conversations that move our country and continent forward," said Omawumi Ogbe. "We understand that the role of a business is not just to make a profit but to impact the people in the environment it operates", she added.

"The Leadership Agenda Summit has always attracted some of the most prominent names worldwide. We're delighted to contribute to conversations that help leaders stretch their ingenuity and renew their minds for more efficiency and effectiveness".
The 2022 edition of the Leadership Agenda Summit is hosted under the grand patronage of the Private Office of His Highness Sheikh Ahmed Bin Faisal Al-Qassimi.

The robust lineup of speakers includes former opposition leader of the UK and member of the House of Lords, Rt Honorable Lord Michael Howard; member of the Upper House of India Parliament, Sayed Zafar Islam; Founder of Tekedia Institute, Prof Ndubuisi Ekekwe; Chairman of the Private Office of His Highness Sheikh Ahmed Bin Faisal Al-Qassimi, Dubai, H.E Tomasz Zaleski; Former Chairman, Nigeria Economic Summit Group, Mazi Sam Ohuabunwa; Chairman of Coscharis Group, Nigeria, Dr Cosmos Maduka; Founder & Managing Consultant, Midridge International, Abiola Adediran; CEO, Pan African Towers, Azeez Amida, among other business leaders.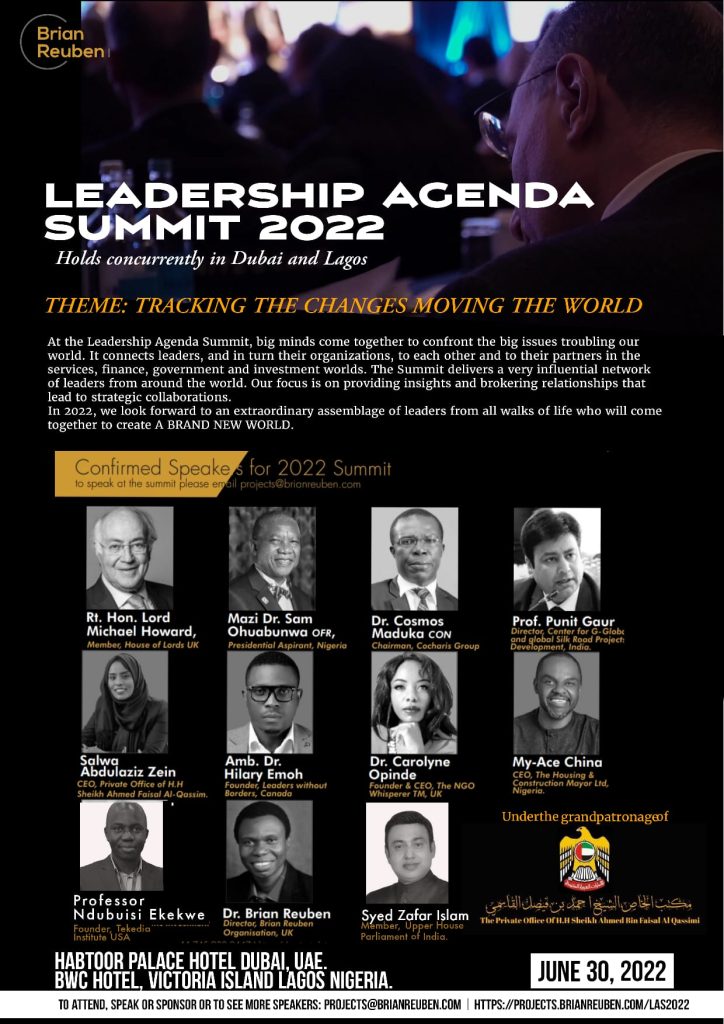 For a complimentary invitation to attend this event, please email hello@glgcommunication.com or projects@brianreuben.com